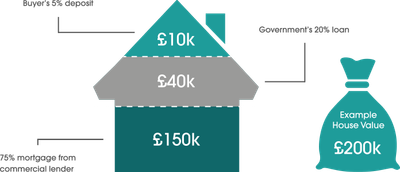 The Government introduced many Help to Buy schemes to assist First Time Buyers getting onto the property ladder.
The most common one is the Help to Buy Equity Loan which is basically where the Government will lend you up to 20% of the cost of a new built property as an Equity Loan (40% in Central London areas) so you only need a 5% deposit and a 75% mortgage (or a 55% mortgage in Central London).
The Equity Loan is interest free for the first five years.
Levana Finance can assist you in applying for the Equity Loan from the Housing Association and guiding you through the process as a whole.
The Government also offers Help to Buy Shared Ownership. This is where if you are unable to purchase a 100% of your new home, you can purchase between 25% to 75% of the property value and pay rent on the remaining share. Over time you can then purchase further shares from the Housing Association.
You could buy a home through Help to Buy: Shared Ownership in England if:
your household earns £80,000 a year or less outside London, or your household earns £90,000 a year or less in London
you are a first-time buyer, you used to own a home but can't afford to buy one now or are an existing shared owner looking to move.
The Final Help to Buy Scheme the Government has introduced is Help to Buy ISA. Levana Finance will go through all your options with you and advise you on the best suited Government scheme for you, should you choose one of the Help to Buy Options.
​
ENQUIRE NOW
​​​ or contact us on 0203 289 4981.
Your home may be repossessed if you do not keep up repayments on your mortgage. Not all products and services mentioned are regulated by the Financial Conduct Authority.