The following Page shows how we can assist you:
First Time Buyers
It's extremely daunting buying your first property, especially if you do not understand the complex house buying process and what is involved. Therefore, Levana Finance appreciates that and will hold your hand and guide you through the whole process and beyond ensuring you are knowledgeable and understand everything.
Re-mortgages
Most clients will take out a mortgage with a fixed tie in period of 2, 3 or 5 years. Once, this period comes to an end, clients will find the bank will revert the rate onto a Standard Variable Rate (SVR) which will be higher than the initial fixed period for the remaining term of the mortgage. Levana Finance can assist you in avoiding going onto the SVR by researching the market and advise you the most suitable deal for you.
Why would you re-mortgage?
There are many reasons why you may be looking to re-mortgage.
Some examples include:
Finding a better deal
To Reduce the Mortgage Term
Capital Raising:
To purchase another property
To debt consolidate
To make Home Improvements
Help to Buy
The Government introduced many Help to Buy schemes to assist First Time Buyers getting onto the property ladder.
The most common one is the Help to Buy Equity Loan which is basically where the Government will lend you up to 20% of the cost of a new built property as an Equity Loan (40% in Central London areas) so you only need a 5% deposit and a 75% mortgage (or a 55% mortgage in Central London).
The Equity Loan is interest free for the first five years.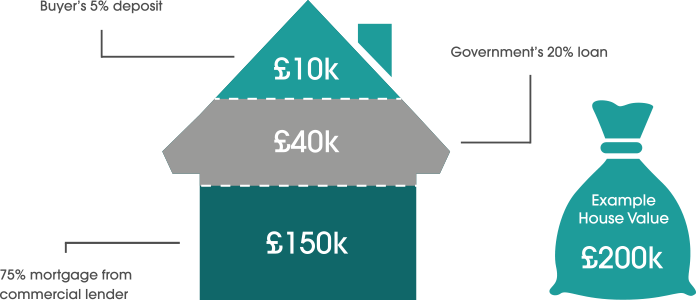 Levana Finance can assist you in applying for the Equity Loan from the Housing Association and guiding you through the process as a whole.
The Government also offers Help to Buy Shared Ownership. This is where if you are unable to purchase a 100% of your new home, you can purchase between 25% to 75% of the property value and pay rent on the remaining share. Over time you can then purchase further shares from the Housing Association.
You could buy a home through Help to Buy: Shared Ownership in England if:
your household earns £80,000 a year or less outside London, or your household earns £90,000 a year or less in London
you are a first-time buyer, you used to own a home but can't afford to buy one now or are an existing shared owner looking to move.
The Final Help to Buy Scheme the Government has introduced is Help to Buy ISA. Levana Finance will go through all your options with you and advise you on the best suited Government scheme for you, should you choose one of the Help to Buy Options.
Buy to Lets/Let to Buy
If you are looking to purchase a property to rent out as an Investment, then Levana Finance can assist in arranging a Buy to Let Mortgage for you. Typically, lenders will require a 25% deposit and the maximum you can borrow is linked to the amount of rental income you expect to receive.
Another scenario maybe you live in the property and would now like to sell and purchase a new residential property, making your current property a Let to Buy. Depending on the lender, Levana Finance can help you find a Let to Buy/Consumer Let to Buy Product that meets your needs.
Right to Buy
Eligible Council and Housing Association Tenants in England are able to purchase their home with a discount of up to a maximum 70% or £108,000 in London or £80,900 outside London, whichever is lower. The amount of discount you are eligible for is determined by how long you have been a public-sector tenant.
For a House.
You are eligible for 35% if you have been a public-sector tenant for 3 years and anything over 5 years, is increased by 1% for every year up to the maximum indicated above.
For a Flat
You are eligible for 50% discount based on being a public-sector tenant for 3 years and anything above 5 years is increased by 2% for every extra year up to the maximum indicated above.
Levana Finance can help you work out the discount available and guide you through the process of how much you will be able to afford, how much you need to put down as a deposit and help you gain ownership of the property.
Commercial Mortgages
A loan on a property that is not your main residential home is referred to as a commercial mortgage. This can be anything like purchasing a property to start a business or purchasing existing mortgage premises such as but not limited to investment properties, hotels, offices, warehouses or shops. Most lenders would be looking for a typical deposit of 30% and experience of trading over a few years. Should this not be the case, then a lender may be willing to lend but require around 50% deposit due to not having trading experience. A typical term is also between 5 to 30 years.
Commercial Mortgages are currently being processed by Levana Finance's Principle Firm who are able to assess the scenario and assist on a case by case basis.
Bridging Finance
If you are currently struggling to sell your house but have already found a new house to move into, in order to complete the onward purchase, you can consider "bridging the gap" between selling and purchasing with a short-term loan. This is referred to as a Bridging Loan and is also used to assist with buying a property at Auction, where a typical mortgage would run over the 21-28 days completion period and you are required to put a deposit down as soon as the hammer comes down.
Bridging Loans can be either "open" or "closed".
A "closed" bridge will come with a fixed repayment date for example you have currently exchanged on a property and waiting for the sale to complete. An "open" bridge is the opposite – there is no fixed repayment date but you will be expected usually to pay it off within a 12 month period.
Lenders will also want to see clear evidence of repayment strategy of how the Bridging Loan will be paid back within the term.
Again, Levana Finance's Principle can assist you with a Bridging Loan and guide you through the process.
Development Finance
Levana Finance's principle has access to solutions for New Build Projects, Refurbishments, Major Renovation Works and Redevelopments whether it be for residential, commercial or mixed-use developments.
The loan amount you can borrow is based on a percentage of the GDV (Gross Development Value) of the property at the end of the work. The term of the development loan is typically 6 to 18 months depending on the size of the project.
Like Commercial Cases, all Development Finance Cases are done on a case by case scenario.
Second Charge Loans
A second charge mortgage is a secured loan where the borrower uses his own home as security. This can be done in situations where the borrower wants to raise money instead of re-mortgaging and would be a "second" mortgage on their existing property.
Typical scenarios a second charge mortgage would work would be:
You have an extremely cheap lifetime tracker deal on your existing mortgage and would like to release equity without having to re-mortgage and lose this rate.
To avoid paying high Early Repayment Charges if they are fixed in an existing deal and want to release some equity.
You need unsecured borrowing such as a personal loan because you are self employed
Like Commercial Cases, all second charge cases are done on a case by case scenario and handled by Levana Finance's principle.
Your home may be repossessed if you do not keep up repayments on your mortgage. Not all products and services mentioned are regulated by the Financial Conduct Authority.